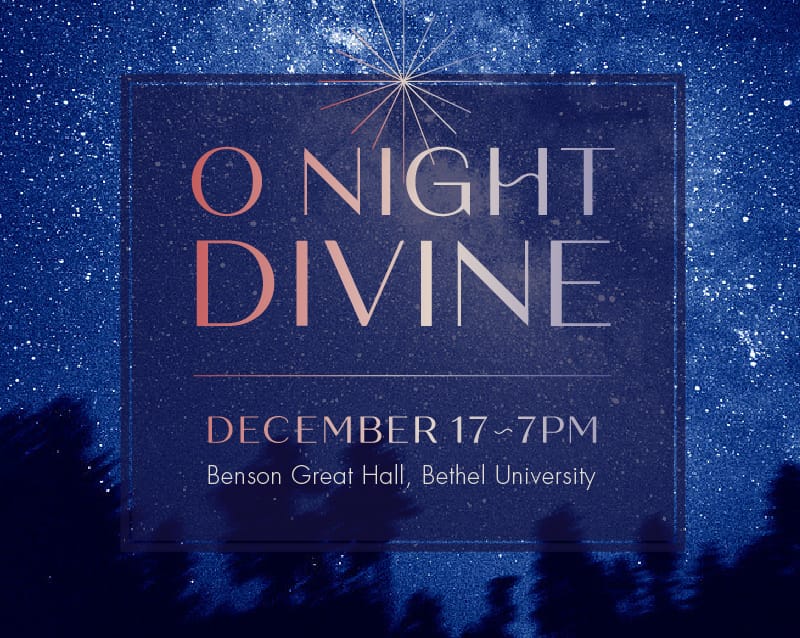 O Night Divine – Christmas Concert
Saturday, December 17, 2022 — 7:00 PM @ Benson Great Hall (Arden Hills, MN)
TICKETS
Reserve your seats in advance, tickets are $12.50.
ABOUT THE CONCERT
Join the Minnesota Saints Chorale & Orchestra, along with special guest Dallyn Vail Bayles for a magical night filled with nostalgic and new music, sure to get you into the Christmas spirit.
The Christmas concert will be held in the beautiful Benson Great Hall at Bethel University, featuring a magnificent 4,000 pipe organ, one of the finest performing arts halls in Minnesota.
Join us for this beloved holiday tradition— invite some friends and make a night of it!
SEATING
Doors open at 6:30 PM for ticket holders.
Rush seating starts at 6:45 PM, any remaining seats will be available for pay-what-you-can donations.
Concert begins at 7:00 PM.
DRIVING DIRECTIONS
Benson Great Hall is located on the Bethel University campus, in Arden Hills (north of the Twin Cities). For driving directions: https://goo.gl/maps/6PigZitbTXUS69nv5
PARKING
Parking is uncovered and free and is located close to Benson Great Hall in the West Parking Lot. From Bethel Drive look for the side entrance of the building (also called the "Community Life Center"). There will be ushers both outside and inside the building to greet you and point the way.
ACCESSIBILITY
There is a drop-off zone in front of the Benson Great Hall building. Once inside the building, it is a short distance to the performance hall. Wheelchair accessible seating is available on the main floor in front of the Mezzanine. For accessibility questions contact ticket office at 651.638.6333 (open weekdays 1-5pm).
AGES
For ages 8 and up.