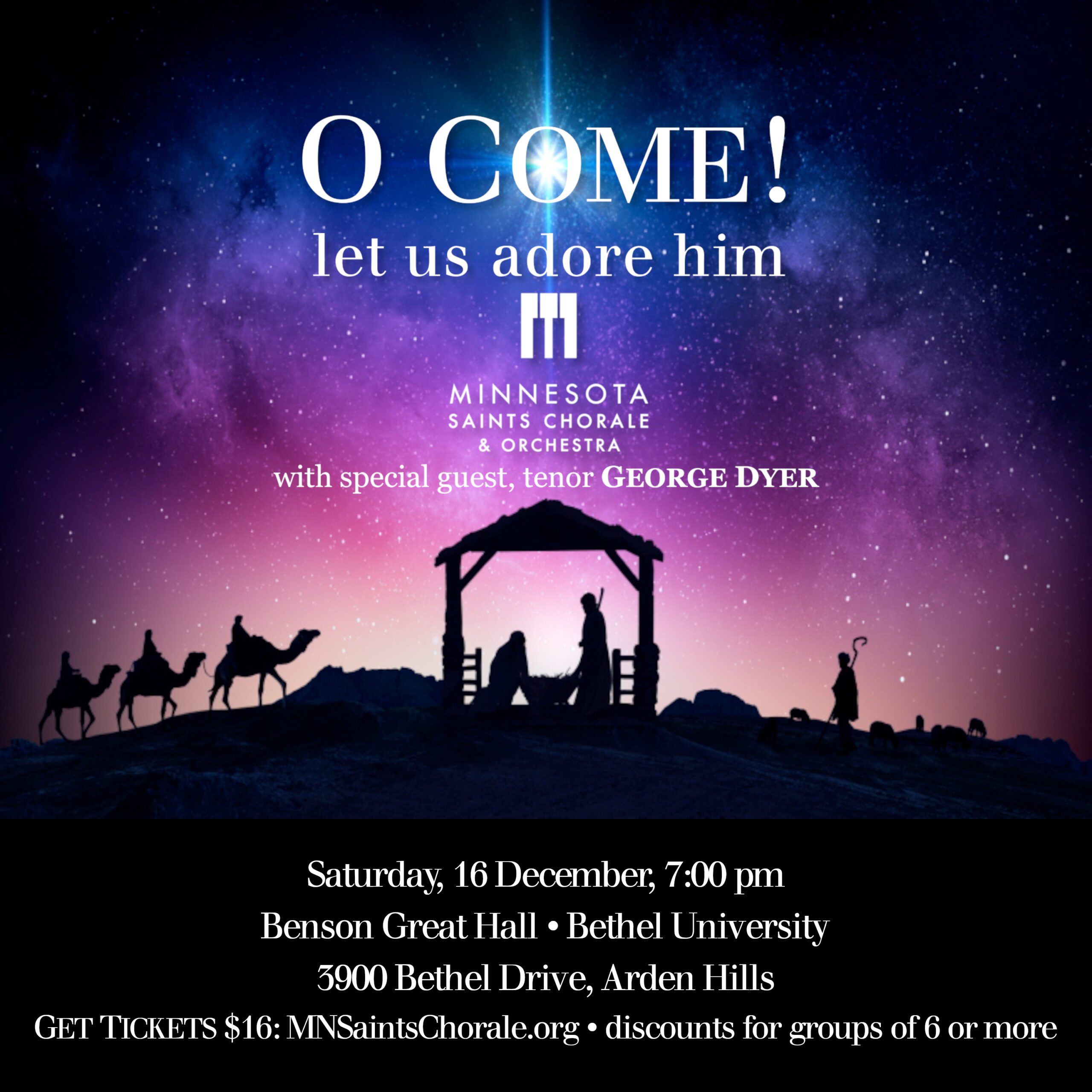 O Come! Let Us Adore Him – Christmas Concert
Saturday, December 16, 2023 — 7:00 PM @ Benson Great Hall (Arden Hills, MN)
Reserve your seats in advance, tickets are $16.
ABOUT THE CONCERT
The Minnesota Saints Chorale and Orchestra return to Benson Great Hall for another magical Christmas Concert. The performance will feature fresh and powerful arrangements of beloved holiday carols, from the beautiful and intimate "Mary Did You Know?" to the majestic "O Come, All Ye Faithful." Audiences will recognize favorite arrangers such as Mack Wilberg, Ryan Murphy, Dan Forrest, Elaine Hagenburg, and Stephen Nelson. Our featured soloist this year will be the acclaimed tenor George Dyer, direct from his show in Branson. He will be joined in a stunning arrangement of "What Child is This?" by local favorite Wesley Frye and homegrown talent Nathan Thibaudeau. Don't miss the opportunity to be immersed in the captivating sound of a powerful choir, handbells, and full orchestra bringing you to Jesus Christ, the heart of the holidays.
The Christmas concert will be held in the beautiful Benson Great Hall at Bethel University, featuring a magnificent 4,000 pipe organ, one of the finest performing arts halls in Minnesota.
Join us for this beloved holiday tradition— invite some friends and make a night of it!
SEATING
Doors open at 6:30 PM for ticket holders.
Rush seating starts at 6:45 PM, any remaining seats will be available for pay-what-you-can donations.
Concert begins at 7:00 PM.
DRIVING DIRECTIONS
Benson Great Hall is located on the Bethel University campus, in Arden Hills (north of the Twin Cities). For driving directions: https://goo.gl/maps/6PigZitbTXUS69nv5
PARKING
Parking is uncovered and free and is located close to Benson Great Hall in the West Parking Lot. From Bethel Drive look for the side entrance of the building (also called the "Community Life Center"). There will be ushers both outside and inside the building to greet you and point the way.
ACCESSIBILITY
There is a drop-off zone in front of the Benson Great Hall building. Once inside the building, it is a short distance to the performance hall. Wheelchair accessible seating is available on the main floor in front of the Mezzanine. For accessibility questions contact ticket office at 651.638.6333 (open weekdays 1-5pm).
AGES
For ages 8 and up.