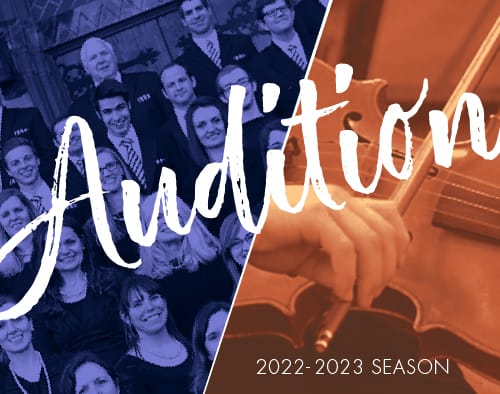 Audition for the MN Saints Chorale & Orchestra – Aug 23 & 25, 2022
Calling all singers & instrumentalists! Come audition for the Minnesota Saints Chorale & Orchestra 2022-2023 season on Tues, August 23rd or Thurs August 25th, from 7 to 9PM (New Brighton, MN).
All musicians welcome; you DON'T need to be a member of the Church of Jesus Christ of Latter-day Saints to join.
To schedule your audition or for more information please email auditionmmc@gmail.com. Check choir auditions page or orchestra auditions page for more info about how to prepare.
Vocal & Instrument Needs
We are looking for ALL singing parts, especially tenors. The auditioned orchestra has space for all strings, bassoon, horn, and harp. All other instrumentalists are welcome to audition.
Covid Response
At this time masks are not required at rehearsals or concerts, but are optional (we follow CDC guidelines). If you have any concerns or questions, please email us auditionmmc@gmail.com.
Practice Times & Concert Dates
The choir has mandatory weekly rehearsal on Thursdays 7-9:30 PM, Sept-Dec (Fall semester), Jan-May (Spring semester). Orchestra rehearses 4-5 weeks before concerts. Practice begins Sept 8, and there's a choir retreat Sat, Sept. 17, 9 am-1 pm.
Concerts required to attend:
Collaborative Concert, Sat. Oct 29, 2022
Christmas Concert,  Sat. Dec 17th, 2022
Lamb of God Concert, Fri. Apr 7th, 2023
Practice Location:
100 Silver Lake Road, New Brighton MN 55112
Church of Jesus Christ of Latter-day Saints