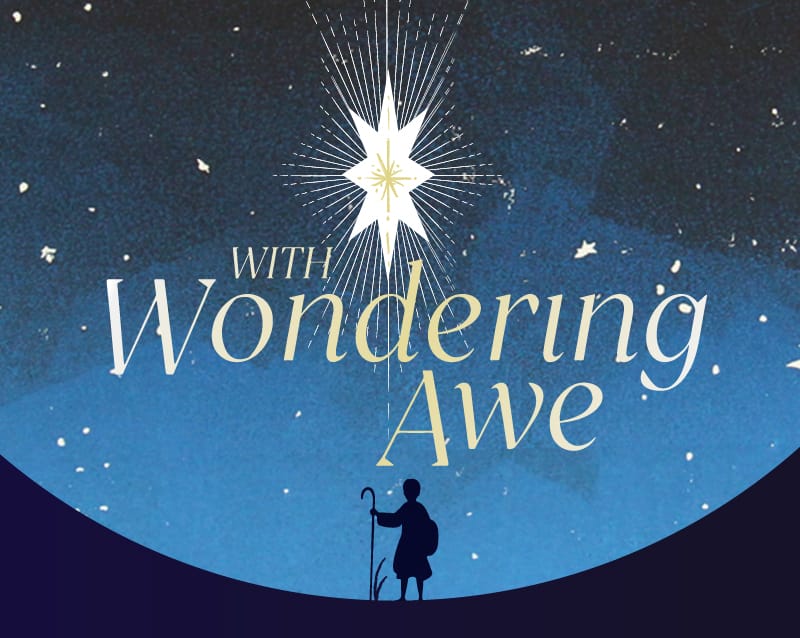 With Wondering Awe – Christmas Concert (Bethel University)
Friday, December 10, 2021 — 7:30 PM @ Benson Great Hall (Arden Hills, MN)
TICKETS
Reserve your seats in advance, tickets are $10.

Live Stream Option: You can also watch the concert online via a live stream, there is $5 fee. Order the pass by clicking the button below, the live stream link will be emailed to you before the concert.
ABOUT THE CONCERT
Join the Minnesota Saints Chorale & Orchestra, along with special guest James Pike for a magical night filled with nostalgic and new music, sure to get you into the Christmas spirit.
James Pike, a lyrical Tenor and member of the Minnesota Opera is noted for his "lovely and pure tone and a great stage countenance." He recently sang the role of Pilate in Rob Gardner's Lamb of God with the MN Saints Chorale & Orchestra.
The Christmas concert will be held in the beautiful Benson Great Hall at Bethel University, featuring a magnificent 4,000 pipe organ, one of the finest performing arts halls in Minnesota.
Join us for this beloved holiday tradition— invite some friends and make a night of it!
SEATING
Doors open at 7 PM for ticket holders.
Rush seating starts at 7:15, any remaining seats will be available for pay-what-you-can donations.
Concert begins at 7:30 PM.

COVID SAFETY PRECAUTIONS
Masks are required inside Benson Great Hall and Lobby for all guests (all ages including children). Safety protocols are an important component in our continued creative approach to keep art alive during a pandemic. The choir has been practicing in specially designed singing masks, and will be wearing them for the performance. At this time, no changes have been made to audience capacity.
DRIVING DIRECTIONS
Benson Great Hall is located on the Bethel University campus, in Arden Hills (north of the Twin Cities). For driving directions: https://goo.gl/maps/6PigZitbTXUS69nv5
PARKING
Parking is uncovered and free and is located close to Benson Great Hall in the West Parking Lot. From Bethel Drive look for the side entrance of the building (also called the "Community Life Center"). There will be ushers both outside and inside the building to greet you and point the way.
ACCESSIBILITY
There is a drop-off zone in front of the Benson Great Hall building. Once inside the building, it is a short distance to the performance hall. Wheelchair accessible seating is available on the main floor in front of the Mezzanine. For accessibility questions contact ticket office at 651.638.6333 (open weekdays 1-5pm).
AGES
For ages 8 and up.