Press Release: "With Wondering Awe" – A Christmas Celebration with Minnesota Saints Chorale & Orchestra
Written by Whitney Hemsath
The Minnesota Saints Chorale & Orchestra is returning this holiday season to Benson Great Hall at Bethel University, on December 10 at 7:30 PM. Joining the choir this year as guest soloist is South African pop-opera sensation André Venter, who blends his classical training with a warmth and accessibility that audiences are sure to love.
A full orchestra, including harp and timpani, along with Benson Great Hall's majestic 4,000 pipe organ, support the vocalists with a richness and depth of sound that reigns throughout the festively decorated hall, immersing listeners in what promises to be an emotionally resonant experience.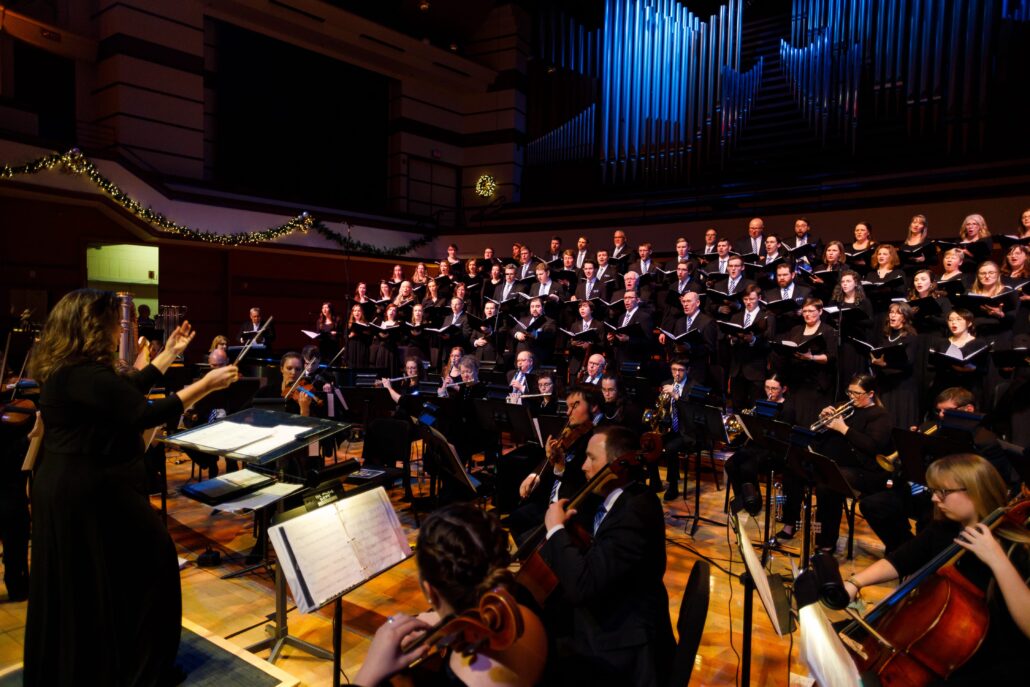 Where the program truly shines, however, is in its carefully curated song selection. With the perfect blend of familiar and new to break the bands of pandemic bleakness, the evening will include lesser-known songs such as "There Is Faint Music" and "I Will Light the Candles This Christmas" along with traditional hymn favorites lovingly packaged in magnificent arrangements not commonly heard. One such arrangement by up-and-coming local composer (and choir member) Brian Gardner will debut at the concert, and it is from this playful and exciting piece the concert takes its name: "With Wondering Awe."
Most unique about the song selection is its Christ-centered focus. While many holiday concerts might create the feeling of a holly jolly sleighride, With Wondering Awe invites its audience not only to feel the festiveness of the season, but to also ponder the miraculous happenings of long-ago Bethlehem and the ongoing light Jesus Christ gives to our lives today.
Things to Know:
The concert is Friday, December 10th, from 7:30-8:45 PM (no intermission) at Bethel University's Benson Great Hall in Arden Hills.

Tickets are $10 to reserve a seat in advance. More concert information can be found at MNSaintsChorale.org.

Doors open at 7 PM. Rush seating starts at 7:15 PM, with any remaining tickets available for pay-what-you-can donations.

Ages 8+ only, please.

Masks will be required, regardless of vaccination status. The choir will perform in specially designed singing masks.